About Me
BIO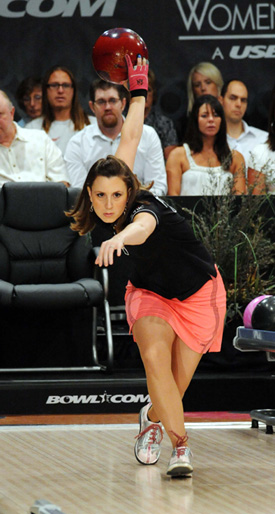 Birthdate: December 9, 1981
Hometown: Laguna Hills, CA
Height: 5'4''
Weight: 126 lbs
College: California State University, Fullerton
Crying in her playpen, suddenly her mother switches the TV on. Bowling is on. Sudden silence, contentment and little baby Melissa is instantly happy again at hearing the sound of crashing bowling pins, a familiar sound for this little one.
Melissa "Missy" Parkin, formerly Bellinder, had her first contact with the bowling world just weeks after she was born. Her Mother, Pat and Father, Frank Bellinder, a long time Professional Bowlers Association (PBA) member, owned and operated Precision Pro Shop, one of Southern California's leading bowling pro shops. Missy was brought into the bowling center to be shown off to all and became a regular visitor.

Missy began bowling at the young age of two-and-a-half. Growing up at the bowling center and in her father's pro shop, her babysitter was the lane and an 8lb bowling ball. She would sit down at the foul line and push the ball down the lane, with no aid of bumpers, for they didn't exist.
Upon starting school, she would come to the pro shop everyday after class and spend the entire summer coming to work with her father, which she thoroughly enjoyed! Everyday, she would finish all of her homework, and then anxiously run out to the bowling lanes to practice, as father Frank coached her.
Missy joined her first youth bowling league at age seven. At age eight, she competed in her first junior bowling tournament, in which she won. By age 10, she was competing in a scratch travel league, averaging 165.
However, her young bowling career took off just after her 14th birthday. Competing in a scratch junior tournament club, Missy rolled her first perfect 300 game. Then to top it off, Missy shot another perfecto one week later in a scratch travel league, in a completely different bowling center! As if two 300 games at age 14 weren't enough for this little lady, three months later, she shot her 3rd perfect 300 game. All three 300 games were in different bowling centers and even in different counties. Finishing off her stellar season, Missy booked a 200 average in her scratch travel league, with her team winning the prestigious league title.
Missy continued her success and soon dominated the junior bowling scene. She went on to win the first Junior Olympic Gold National Championships in 1998, thus earning a berth on Junior Team USA at age 16. Missy went on to qualify for Junior Team USA in 1999, 2000 and 2001, the first three years of the team's existence.
Just turning 18, as a senior in high school, Missy became the youngest bowler to earn a spot on adult Team USA. She went on to compete for Team USA in 2000, 2001, 2007, 2013, 2014 and 2015, earning several international gold medals.
In college, Missy attended California State University, Fullerton, competing for two years on the women's team and two years on the men's team, as there were not enough women to field a team. In 2003, Missy was voted MVP and Collegiate Bowler of the Year. In that same year, while competing on the men's/mixed team, she was also voted MVP and to the All-tournament team at the Intercollegiate Bowling Championships in the MEN'S division, where the Titans finished 4th in the nation, the highest finish for a mixed team in college bowling history. Missy was a First Team All American for 3 out of the 4 years that she competed in college bowling.

Just prior to graduating from college, Missy's dreams of competing on the professional women's bowling tour were shattered, as the women's tour folded. Yet, her last semester of college, Missy broke another barrier, becoming the FIRST woman to join the men's Professional Bowlers Association (PBA). She later went on to become the FIRST woman to win three PBA Regional Titles and earned the highest finish ever my a woman in both the 2012 USBC Masters and 2012 PBA U.S. Open.
Missy became one of 16 women in the world to qualify for the PBA Women's Series in 2007 and maintained her exemption throughout the three years that the PBA Women's Series ran alongside the PBA Tour.

Breaking through, Missy claimed her first major professional title when she won the 2011 USBC Queens tournament, just one year after her devastating pocket 7-10 loss to Kelly Kulick in the previous year's event. Missy has also added the 2012 World Bowling Tour Women's Finals and 2014 PBA Women's Challenge titles to her resume. Missy has numerous top finishes in other major professional tournaments, her latest being runner-up at the 2012 U.S. Women's Open, which was contested outside on Virginia Street in Reno, Nev. Missy is currently one of a handful of women that competes in PBA National and Regional tournaments and travels abroad to compete in World Bowling Tour events.
Missy married Drew Parkin on September 18, 2010, thus changing her name from Missy Bellinder to Missy Parkin. Soon after getting married, Missy and Drew took over Missy's father's pro shop business, opening up Parkin's Bowling Supply in January 2011. Parkin's Bowling Supply currently has eight pro shop locations - inside AMF Carter Lanes, Bowlero Cerritos Lanes, Bowlero Rancho Cucamonga, Bowlero Lancaster, Bowlero Palmdale, AMF Hemet Lanes, Arlington Lanes and inside Oak Tree Lanes. Missy and Drew welcomed son, Drew Parkin Jr. (DJ) in December of 2017.
Watch for Missy on ESPN!
Education: Bachelor of Arts in Communications, Public Relations and a Minor in Spanish Language, May 2004
California State University, Fullerton; Fullerton, California
Graduated Summa Cum Laude with a GPA of 3.9 on a 4.0 scale
Accomplishments:
Recipient of the 2003-2004 Outstanding Professional Promise Student Award in Public Relations from the Department of Communications at California State University, Fullerton
Member of Phi Eta Sigma National Honor Society
Member of Golden Key International Honour Society
Member of The Honor Society of Phi Kappa Phi
Member of Kappa Tau Alpha National Honor Society in Journalism and Mass Communication